Pegrex offers a range of specialist engineering services to help designers and project managers with cable support, modelling, pre-production problem-solving and pilot manufacturing.
Our Project Management Solution
Clients come back to work with Pegrex time after time because they know they can rely on us to deliver design and manufacturing services which are consistently excellent.
Those working in the defence industry, for example, need components manufacturing to the strictest possible tolerances, often working to standards set by governmental and pan-governmental bodies. They need to know that when they work with Pegrex they are working with a company which understands the excellence required and has been delivering to that standard for more than 70 years.
We also have the flexibility to meet the varied demands of different clients. For some clients that will mean working from an existing design to create the item or items they need. Other clients will come to us with an existing item to be reverse engineered and reproduced, or an initial rough sketch of an idea which our team of designers will turn into a detailed 3D Computer Aided Design (CAD).
When it comes to our work in the cable support sector, we are proud of our track record of supplying a wide range of cable support components to the defence industry. These are NATO codified parts which are used primarily on warships and submarines, and have been modified over the years by our expert engineers and designers in order to improve versatility and ease of fitment.
Have A Question? Get in touch:
Our versatility, expertise and commitment to using the latest tools and techniques mean that we can design and prototype parts working within the cable sector to specific customer requirements. Once a prototype has been approved we can then design and supply the press tooling needed to manufacture the part in large volumes if this is required.
We can also supply the manufacturers of cable tray and cable baskets with a wide range of fittings needed to fix and assemble those trays and baskets. No matter what the requirements of a client in the cable support sector are, we will work to deliver them, supplying components in a wide variety of materials and with a range of plated finishes. In addition to this, our vibro deburring facilities mean that all the parts that we design and/or manufacture can be supplied burr free, making their application safer and more efficient.
Our work in the cable support sector, like everything else we do, is delivered to the highest possible standards by time-served engineers who understand the demands of the industry they are delivering for. In the case of the defence industry in particular, we understand that successful products utilised in the right way could sometimes literally make the difference between life and death. Our expertise is reflected in the fact that we are a NATO certified components supplier.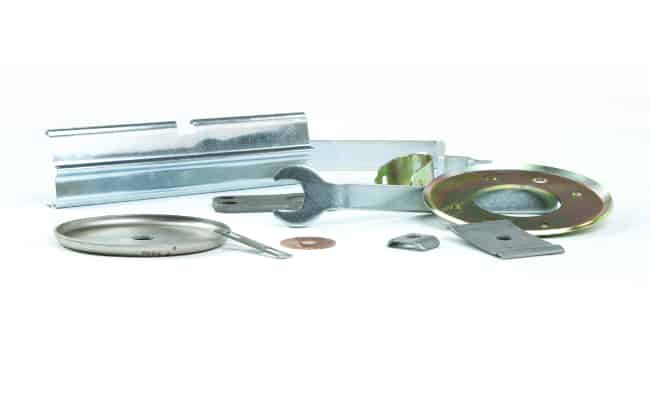 We area a BS EN ISO9001:2000 accredited company which has been BSI registered since 1992. These stringent quality standards are reflected in every component we supply. From our location in the Midlands – close to the geographical centre of the UK and within easy reach of excellent transport links – we are able to offer a genuinely national service.
Our experience and the size of our operations mean that we can deliver in line with extremely tight deadlines and turn orders round quickly in response to urgent need. If required, we are also able to offer limited production runs, full batch traceability and just in time delivery.
To enquire about our cable support sector services, or any of the other services we offer, simply call us on +44(0) 121 511 1475, send a fax to +44 121 511 1474 or email your enquiry to info@pegrex.co.uk.