Stainless Steel, Ingress Protection, Aluminium, Galvanised Steel and non-ferrous Metals.
No matter what your requirement is for metal enclosures and project boxes, we've got you covered.
Our Metal Enclosures Solution
Whether you are an engineer looking for a single enclosure for a specific purpose, or a manufacturer looking to turn out thousands of units for worldwide distribution, we have the service and expertise in place to ensure you get the outcome you need.
Speak to our team today to discuss your requirements. Contact us by phone or email using the details below:
Have A Question? Get in touch:
Our work on electric enclosure cases offers an example of the service we offer to clients. We've been in business for more than 70 years and for much of that time have manufactured metal enclosures for the electrical industry. Most of these metal enclosures are relatively small in size, but the job which HVR Pentagon Ltd brought to us was something different. It involved the manufacture of a larger unit capable of holding as many as 40 off braking resistors.
Under any circumstances, this would be a demanding project, but the details of the HVR case placed unique demands on us. Although they only supplied basic sketches of what they needed, HVR were asking for a quote on price within 24 hours and a commitment to provide the first 5 metal enclosures within 10 days. It also emerged that the client required a design which was versatile enough to be configured in different ways, enabling the manufacture of smaller enclosures utilising the same parts.
For some companies, this might have been an impossible challenge, but we utilised existing CNC turret punch and press brake facilities in order to deliver on time and to the specification set out by HVR. Since then, we've manufactured the further configurations asked for.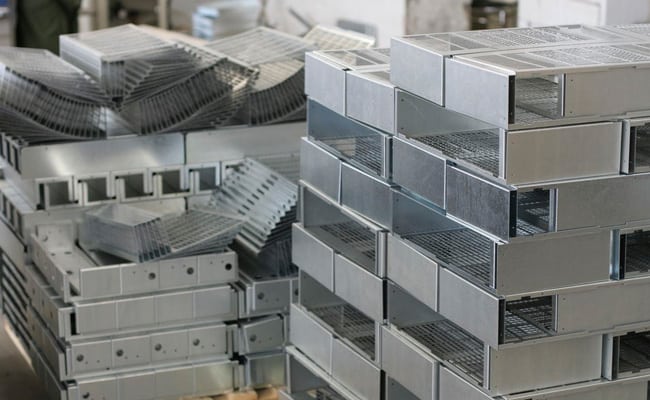 Our credentials include the fact that we are a NATO certified components supplier and a BS EN ISO9001:2000 accredited company, having been BSI registered since 1992, and our unique combination of skills, experience and technology means we are ideally placed to deliver the kind of niche, highly specialised requirements that other providers often struggle with.
We're located in the Midlands, close to the centres of the UK and the excellent local transport links enable us to offer a genuinely national service.
Our size and experience mean we can meet and deliver to extremely tight deadlines and respond quickly to client demand, up to and including offering limited production runs, just in time delivery and full batch traceability.
To enquire about our work in the metal enclosures sector or any of the other services we offer, simply call us on +44(0) 121 511 1475, send a fax to +44 121 511 1474 or email your enquiry to info@pegrex.co.uk.