Pegrex offer a range of specialist engineering services to help designers and project managers with modelling, pre-production problem-solving and pilot manufacturing.
Our Metal Pressing Solution
Here at Pegrex we are proud of our reputation for delivering consistently excellent results across a wide range of industries.
Clients work with us time and time again because they know that the expert technicians, designers and engineers we employ will become a part of their team, working in partnership to deliver the best possible results.
We work in highly specialised industries such as defence and aerospace, where working to extremely strict tolerances is a fact of life. At the same time, we're equally at home delivering solutions to clients in the jewellery and giftware sectors, where the appearance of a finely crafted item is often the most important aspect of design and manufacture
In all cases, we will deliver exactly what a client wants, thanks to a combination of good old fashioned engineering skill and experience and the best and most modern equipment and techniques.
When it comes to metal pressing we are able to supply components in either large or small batches depending upon what the client needs, and our call-off facilities mean that we can hold stock for immediate delivery if required. This means that the client only has to pay for stock as and when they need it, and doesn't have to deal with the expense and inconvenience of storing stock on their own site.
Have A Question? Get in touch:
Another key advantage of the metal pressing service offered by Pegrex is the fact that it is only one of many processes we have expertise in. This enables us to work with clients on every part of a project, from design to manufacture, safe in the knowledge that the same high standards will apply throughout. If a client comes to us with a completed design we will put together a plan for delivery, using a process such as metal pressing as well as CNC turning, laser cutting and hand polishing to name just a few.
Alternatively, our expert designers can take a rough initial sketch and create a 3D CAD (Computer Aided Design), utilising state of the art Solid Edge software. This design will form the basis of a prototype which will be used to test the concept and eliminate any problems before full-scale manufacturing commences.
If metal pressing forms a part of the manufacturing process then we'll be able to call upon facilities which include a single action press which can work up to 120 tonnes, alongside 18 off powers presses. Once the requirements of a customer have been identified and refined, we can design and supply the press tooling needed to meet those requirements, ensuring consistent results no matter how many individual items are needed in a batch.
The versatility which we have developed over more than 70 years enables us to deliver metal pressing solutions in a wide variety of materials, including ferrous and non-ferrous metals, and our work in high demand, specialised industries means that we're more than happy to provide full material traceability when required.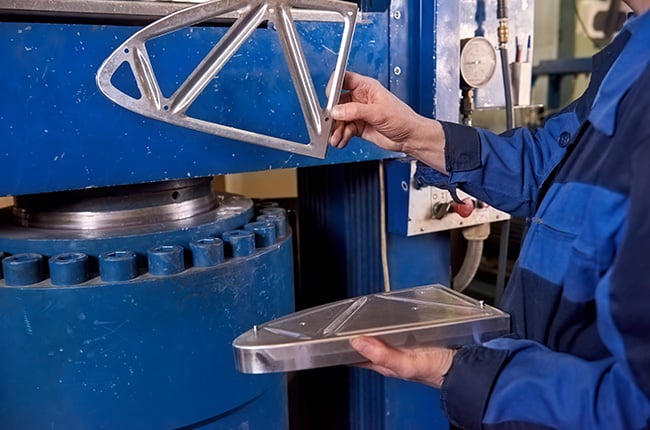 Because, we know that the finish of any item is all important we also provide full on-site de-burring facilities, and everything we design and manufacture is delivered in line with our BS EN ISO9001:2000 accreditation, and the fact that we have been BSI registered since 1992.
Our unique combination of skills, experience and technical innovation means that we are ideally placed to deliver the kind of niche, highly specialised requirements that other providers tend to struggle with, and yet more reassurance is provided by the fact that we are a NATO certified components supplier.
Our facility is located in the Midlands, close to the heart of the UK and within easy reach of excellent transport links, making us a truly national business. We can work to extremely tight deadlines and respond to client demand in a quick and efficient manner, as well as offering facilities like limited production runs and just in time delivery.
To enquire about our metal pressing facilities, or any of the other services we offer, simply call us on +44(0) 121 511 1475, send a fax to +44 121 511 1474 or email your enquiry to info@pegrex.co.uk.